Share
Born in 1762, Abdulrahman Ibrahim Ibn Sori was a Fulani prince originally from the West-African region called Fouta Djallon ( now part of Guinea). He was a 26-year-old young man who was destined to rule on one of Africa's most influential kingdoms at the time. His father, Almami Ibrahim Sori consolidated the Islamic confederation of Futa Jallon in 1776, with Timbo as it's capitaFulanil, where Abdul Rahman lived and studied In 1788, this heir to the throne was stripped from his destiny, when he was abducted and sold into slavery almost 6000 miles from his kingdom in Natchez, Mississipi to a slave-owner named Thomas Foster.
His first years as a slave, Sori tirelessly protested against the injustice that he was facing, and tried to convince "Foster" -his "owner" of his title, and how his enslavement was a huge mistake. Instead of freedom, his protestations earned him the derisive nickname of "Prince" . During his first escape attempt at his arrival, Sori realized that what seemed like a nightmare was only the beginning of a life of suffering. In fact, Sori will remain a slave for 40 long years.
Sori royal blood is certainly the element that made him stand out, but what makes him an exception among the millions of Africans forced from their homes and sold into bondage was that detailed narratives of Muslim, and highly-educated aristocrat like Sori were quite rare, if not inexistent. Sori had learn the constitution, and laws of a very sophisticated African Kingdom, and had been educated in Islam and politics in neighboring Timbuktu (Mali). By the time he was captured he spoke at least five languages and was the head of a 2,000-men army.
Foster was an uneducated man who knew little about cotton, and Sori did, as cotton was grown in Fouta Djallon. With Sori's help, Foster became one of the region's leading cotton producers. Sori then went on to marry 25-year-old Isabella in 1794, a midwife also enslaved by Foster. The two had five sons and four daughters.
However, as Sori was acclimating to his new condition, a chance encounter would once again alter the course of his life. One market day, in 1807, he met a British surgeon named John Cox who marooned on the West African shore decades ago. Cox only survived because he was rescued by a group of Fulanis who brought him to Timbo. There, he met Sori and his royal family who offered him medical care and friendship over a six-month stay.
To repay his debt to Sori's family, Cox would spend the rest of his life trying to buy Sori's freedom. Foster refused at any cost—Sori had been with him for nearly two decades at that point, and his knowledge was too valuable to lose. While his efforts were ultimately fruitless, they did get Sori local and national celebrity.
Word of the story spread quickly around town and when Andrew Marschalk, a local newspaperman, heard about it, and found out Sori spoke Arabic, he leapt to the conclusion that Sori was Moroccan. Sori never corrected that thought, and used it as a stratagem to send a letter to the Sultan of Morocco. News of a Moroccan royal being held captive in the United States worried the Secretary of State Henry Clay who saw in it a potential diplomatic catastrophe. Clay arranged for Sori's release on February 22, 1828, 40 years after he was captured.
Foster agreed to Sori's release, with compensation, under one condition: that he be transported directly back to Africa without ever enjoying "the privileges of a free man within the United States of America." Sori's freedom was imminent but Isabella's and his children were not. His determination to return to Fouta Djallon was matched by his refusal not to do so without his family.
Before he left Natchez, Marschalk gifted him a traditional "Moorish costume" for the trip, upping the absurdity of his deception. Sori was a skilled strategist and planned to use the trip as an opportunity to fundraise for his children's freedom — a costume could only help keep the Moroccan masquerade.
He was quickly able to buy Isabella's freedom, but he had to continue soliciting donations for his children, asking even President John Quincy Adams (6th president of the United States) for funding, which Adams refused. Sori met many influential people , among which Thomas H.Gallaudet one of the founders of the American School for the Deaf, and a member of the American Colonization SoA year after he was freed, after using all the resources possible to raise the necessary funds to free his offsprings, Sori found himself with half the funds necessary. Moreover, as Foster was now threatening to reclaim him he had to ciety. Gallaudet once asked Sori to write the Lord's Prayer in Arabic for use in missionary work; Sori complied. Years later, Gallaudet would find out that Sori had not, in fact, written the Lord's Prayer. He had instead copied the first chapter of the Quran.
make the cruel choice of leaving the United States only accompanied by his wife Isabella. Once again, Sori set sail across the Atlantic desperately hoping his children would be able to follow soon. When he arrived in Monrovia, Liberia in March of 1829 the first thing he did was unroll his prayer mat and bow to the earth.
Sick and weakened by the journey, Sori would contract a fever just four months later and die at age 67. He would never return to Fouta Djallon or see his children again.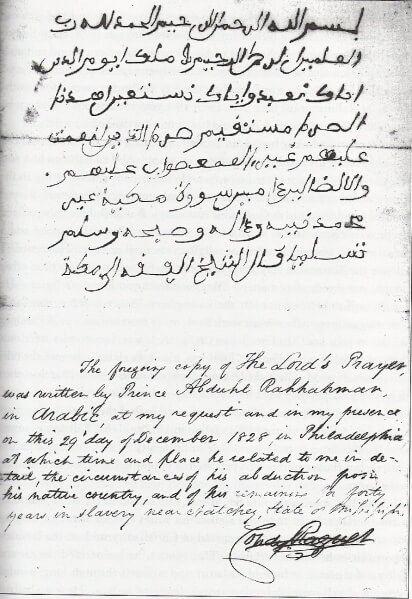 Text written by Abdul-Rahman Ibrahim ibn Sori, in Arabic script, of a variation of the Fatihah, presented as the Lords Prayer, Philadelphia, December 1828. (Source: American Philosophical Society, Philadelphia)
More on Abdulrahman Ibrahim Ibn Sori:
A list of his descendants : https://www.upf.tv/wp-content/uploads/sites/196/2014/07/dreyer.pdf
A 1 hour movie about him of Amazon-prime called "Prince Among Slaves": https://www.amazon.com/Prince-Among-Slaves-Marcus-Mitchell/dp/B00UJX49NW/ref=sr_1_1?dchild=1&keywords=prince+slave&qid=1623982487&s=instant-video&sr=1-1
Articles which were partially used to write this essay:
https://www.history.com/news/african-prince-slavery-abdulrahman-ibrahim-ibn-sori
http://newafricacenter.com/abdul-rahman-ibn-ibrahim-sori.html
Would you like to submit an article to us? Contact us at editors@theafricaiknow.org
Subscribe to our newsletter to keep up with our programs and activities, learn about exciting developments in Africa, and discover insightful stories from our continent's history.
Please subscribe below